I firmly believe in the imminent return of our Messiah! We've been waiting for this for 2000 years, the parousa or 2nd coming.
It's time for us to really get right with God or our higher power if that is what works better for you.
The book of Revelations states that Hell will reign on earth before his return.
I also believe in a pre-tribulation rapture; He will rescue His chosen people, sweep them away from harm and return them after he re-establishes His rule upon the earth.
I encourage everybody to pay attention, we're living in truly biblical times!
As such, I follow certain Catholic daily inspiration sites that help me remain centered and focused with all of the insanity that is ongoing on this crazy wet rock we call home.
Most folks don't think Catholics study the Bible very much.  They are probably unaware that the Roman Catholic church maintains a 3-year schedule, years "A", "B", & "C".  Every daily Mass has at least one reading before the Gospel, either from the old or new testament.  Sundays and Holy Days of Obligation have 2 readings before the Gospel, one from the Old one from the New Testaments.  Over the course of the 3-year cycle, over 90% of the Bible is read.  The priest gives his homily or sermon at the end of the Gospel.  This usually covers at least one of the daily readings.
Bishop Robert Barron provides daily commentary on the daily Gospel from the Roman Catholic Church.
Thursday, April 27, 2017
2ND WEEK OF EASTER, YEAR I
JOHN 3:31-36
Friends, today's Gospel declares that the Son of God does not ration his gift of the Spirit. At the Cathedral of Chartres, the figure of Jesus is surrounded by seven doves, symbolizing these seven gifts of the Holy Spirit: wisdom, understanding, knowledge, counsel, fortitude, piety, and fear of the Lord. The Messiah will be filled up with all of the powers and energies of God's spirit.
These seven gifts have played a prominent role in our tradition, appearing in theologians as diverse as Gregory the Great, Augustine, and Thomas Aquinas. These gifts are signs that the Christian is participating in Jesus Christ. In holding up this image, therefore, the Church is asking us to meditate on the people that we are called to be, participants in Jesus.
How does one come by these gifts? We can't really earn them or work our way toward them. But they do come from Jesus Christ, and therefore from our proximity to him through the Church and the sacraments. As we wait in joyful hope for the coming of the Lord, pray for the conformity to him which consists in the seven gifts of the Holy Spirit.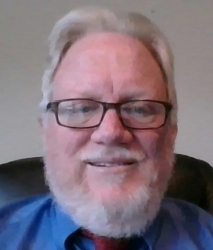 Latest posts by Dr. Raymond Oenbrink
(see all)