The Good News?
Probably–When the testing is done the right way.
How does a chronically ill person go about getting recognition as being disabled?
It depends on what is going on with you.
One of the most common complaints I see is utter exhaustion, no stamina, can't function as before the illness and "push/crash"–if I overdo today, I'll be wiped out and confined to the couch or bed for a period of time afterwards–depending on how much I overdo–the greater the effort, the longer the "crash".
Shortness of Breath on Exertion (SOBOE) progresses to Shortness of Breath at Rest (SOBAR)
There are 3 major systems that contribute to shortness of breath that originally starts with exertion–things that formerly were not a problem become difficult to impossible as the illness progresses.
Lung disease–it could be asthma, emphysema, restrictive lung disease.  Proper diagnosis depends on pulmonary function testing (PFT's)–how well you move air in and out of your lungs.

Heart Disease–Congestive Heart Failure (CHF) is the most common cause–but Diastoic Dysfunction, Pulmonary Hypertension (high blood pressure in the lungs & right-side heart circuit–with a 5 year life expectancy.

Mitochondrial malfunction–remember biology from school long ago?  These are the "power plants" in each cell that make Adenosine Tri-Phophate (ATP)–the energy currency of each cell.  These complex chronic illnesses can interfere with the mitochondria such that even though there is oxygen available–it's not being used by the mitochondria–resulting in only 30% of normal ATP production.
Typically, when a cardiologist does a stress-test, they "accelerate" the test to save time.  Typically, a stress test is done on a treadmill, the standard protocol is to increase speed & incline every 3 minutes with the most popular (Bruce) protocol.  This testing is done to see if the heart is working OK–but it also indirectly can measure the lungs and the mitochondria if done a bit differently.  After spending 3 years communicating with SSDI, they finally admitted that if a person cannot maintain a specific level of exertion from ANY cause, they would qualify for Disability Income.  The SSDI website mentions limits for congestive heart failure. When pressed however, they finally relented and agreed that despite the cause of the limitation–any cause that prevented the required level of exertion would qualify for disability status!
So, by figuring out exactly how much exertion is needed to not qualify, then setting the exercise equipment to a level just below that number we can run the stress test until the patient is to tired to go on.  Unlike the protocol above (Bruce) that is often "accelerated/modified" to less than 3 minutes per stage, the objective with the Disability Protocol is to maintain a set level of exertion just below what is required to not be disabled–until fatigue ends the test.  Instead of a treadmill (folks with these diseases are generally unable to run uphil), a recumbent bike provides a chair with a back rest–hard to fall!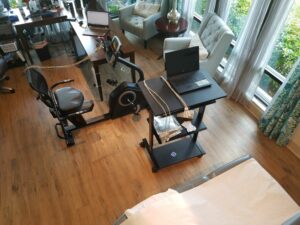 The patient exercises until they're to tired to go on–and we try to video the last 60 seconds to show that the patient is worn out–the video can be a deciding factor for a disability adjudicator!
What if I don't wear out during this test?
Simple.  Repeat the test within 24 hours.  The concept of "oxygen debt"–when somebody has exerted themselves to the point that they are no longer burning oxygen, they are exercising without oxygen "anaerobially".  The mitochondria produce water & carbon dioxide when metabolizing with oxygen.  Without oxygen they produce pyruvic acid which can later be converted back to glucose with the use of extra oxygen (which is impaired in these mitochondrial abnormalities).  By repeating the test during oxygen debt, endurance is dramatically reduced, making it far more likely for the patient to be unable to pass the test the following day.
Why isn't this testing commonly done?
Because;
1. Few physicians know about these SSDI requirements.
Even SSDI couldn't answer the question–it took months of communication back and forth with them before they realized that whether the disability was due to problems with the heart, the lungs or the mitochondria–a disability is still a disability.
2. Most practitioners who do stress tests are looking for a specific answer that can be found quickly, as the old adage goes; "Time is Money"…  The test is "modified", each stage is done more quickly.
3. Complex Chronic Illness patients are just that, COMPLEX!   Most practitioners would rather run more patients with simple issues through their clinics than struggle with these time consuming, often "emotionally needy" patients.
Is this all there is to it?
Typically, legal representation is needed to sort through the myriad ssues invovled, however most reputable attorneys will advise that the individual seeking SSDI first attempt on their own.  Numerous forms will need to be completed and submitted.  Consult the SSDI Application Page for more information on this process.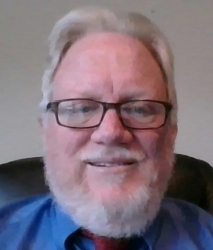 Latest posts by Dr. Raymond Oenbrink
(see all)